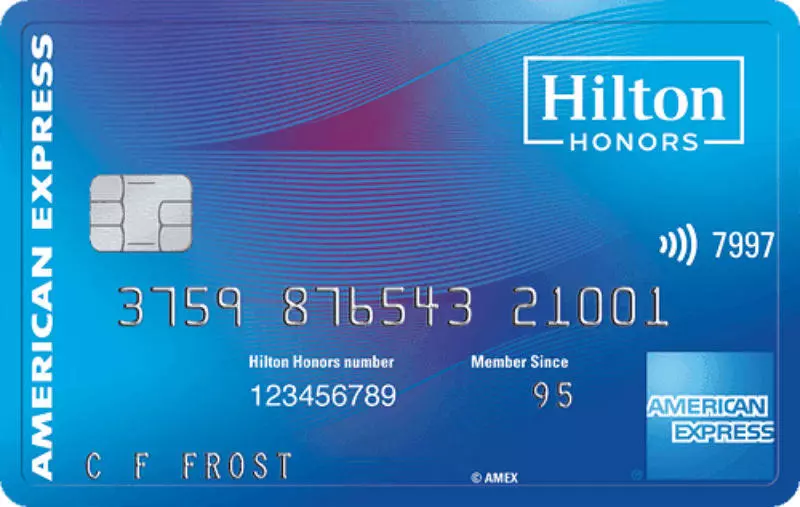 APR (Interest Rate)
6.5/10
Pros
There is no annual fee for the card which is making rewards point more beneficial for consumers.
No foreign transaction fee is a good feature for a hotel card.
100000 bonus points is very attractive for consumers.
Rewards points rates are really high.
Cons
APR rates are a little bit high.
Review
Hilton Honors Card is an American Express card that you can apply from the official website of the company. The card is providing many good features for consumers. Amazing bonuses and amazing amount of rewards awaiting you with this card. If you are a regular customer of Hilton Hotels, we recommend you get this card seriously. You will find a review for this card with detailed information below. You can ask us if you have any questions regarding the card and you can also write a review to the comment section below.
100.000 Hilton Honors Points After You Spend $1000 in 3 months
You will able to get 100000 Hilton honors points after you spend $1000 with your card. It means you will almost receive $1000 back. This is awesome opportunity for you if you are a customer of Hilton Hotels. You will able to redeem your points when you spend for Hilton Hotels.
Amazing Bonus Points with 7x & 5x & 3x Rates
Yeah, it is true! You will able to get 7x Hilton honors points when you spend purchase from Hilton Hotels and Hilton Portfolio.
You will earn 5x honors points when you purchase from US restaurants, gas stations and supermarkets!
You will earn 3x honors points when for the rest of your purchases!
No Foreign Transaction Fee
It is good that you won't need to pay extra when you are at abroad. You will not also pay extra fees when you buy things with foreign currency with the card. There is no foreign transaction fee on this card. This is especially very good for a hotel card.
No Annual Membership Fee
You don't have to pay extra for annual membership of the card. This is making card more beneficial for you. This is making your rewards more valuable.
CreditCardsKarma Thoughts on Hilton Honors Card
We recommend this card for you if you are regular card of Hilton. There are many beneficial offers. You won't also need to pay annual fee and foreign transaction for the card which we really like for rewards credit card.
Hilton Honors Card Rates
Interest Rate (APR)
Rewards ($1)
Annual Fee
FTF(*)
Cash Advance Fee
Cash Advance APR
Balance Transfer Fee
Balance Transfer APR
17.99% – 26.99%
7x points when you purchase from Hilton Hotels and Hilton Portfolio.

5x points when you purchase from US gas stations, restaurants and supermarkets.

3x points for the rest of purchases.

100000 bonus points when you spend $1000 first 3 months.

None
None
$5 or 3%
27.49%
$5 – 3%
17.99% – 26.99%
FTF: Foreign Transaction Fee
Editor Scores for Hilton Honors Card
| Type of Card | Editor Score | Overall Score | Total Cards |
| --- | --- | --- | --- |
| General | 215 | 200 | 100 |
| Sign-Up Bonus | 215 | 199 | 44 |
| Rewards | 208 | 189 | 64 |
| Hotels | 382 | 356 | 5 |
Similar Credit Cards
Originally posted 2019-04-25 02:39:51.