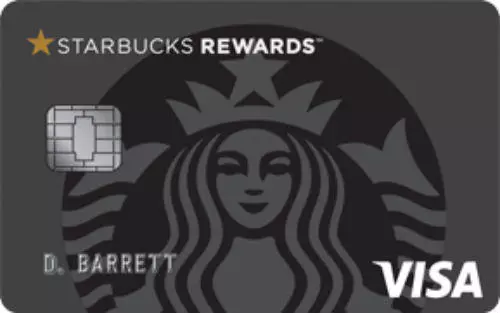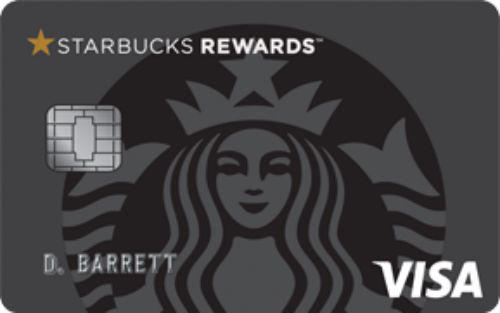 APR (Interest Rate)
5.0/10
Pros
Starbucks Credit Card is very profitable if you use it only for Starbucks.
3x star points on purchases from Starbucks.
Reasonable annual fee.
Cons
We strongly recommend you to use this card for only Starbucks, otherwise the card will not be beneficial for you.
High interest rates and high fees.
0.25x star points for other purchases is very bad.
Review
If you are visiting Starbucks regularly, this card can be a good option for you. However we should admit that we are not pleased with the rewards rate of Starbucks Credit Card. Especially 1 star point per $4 purchase outside of Starbucks stores doesn't look like a fair rate at all. However points that you will earn from stores are not bad.  If you get a membership from Starbucks Rewards™ Member and if you also have this card, you gain 3 star points per $1 purchases. You also earn an extra food or drink when you gain 125 star points as a Gold Member.
Starbucks Credit Card Worth It?
Let's see how things will work with this card…
I am also visiting Starbucks regularly  and I generally drink White Chocolate Mocha at Venti size. It costs me $4.75. (May be this price can change by time or location). So with a White Chocolate Mocha, I earn 14.25 points. To get a free White chocolate mocha with my rewards points at Venti size, I need to collect 475 star points. It means I need to order 34 WCM at venti size which will cost me 161,50 USD.
34 White Chocolate Mocha is almost equal my monthly purchases from Starbucks stores. With maximum purchase APR, I will need to pay $3.35 interest for all purchases from store.
Annual fee of the card is $49, it means it will cost you $4,10 monthly.
So I have a gold membership and I need to order 9 White Chocolate Mocha to gather 125 star points. It means $42,75. So it is more than 10% savings. It depends on what you love to drink though.  If you drink Venti size Freshly Brewed Coffee with your rewards points, so the saving percentage is going to be about 5%. I can use this opportunity 3 times in a month.
So lets calculate expenditures other than I already purchase from stores regularly.(I already order those coffees without the card too.)
Payments
Monthly Interest: $3.35
Monthly card fee: $4.10
Total Spent: $7.45
Rewards and Extras
Rewards: $4.75
Free drink or food that I can get a month: $14,25
Total Rewards and Extras: $19
Total Profit: $14.25
Result: Excellent
Please note that we didn't add bonuses to our calculation.
This is one of those rare results which consumer can win against the credit company.
However You Should Be Careful About These Facts:
Should use this card only Starbucks, otherwise Starbucks Credit Card will cause a serious loss to you.
Shouldn't try gather rewards points out of Starbucks stores.
Shouldn't use cash advance, balance transfers since fees and interest rates very high.
Should get membership from Starbucks if you don't have already.
If you will do one of those options that we provided above, a low APR credit card can be more profitable for you than Starbucks Credit Card.
You can see rates & fees, editor scores of Starbucks Credit Card below.
Starbucks Credit Card Rates & Fees
Interest Rate (APR)
Rewards ($1)
Annual Fee
FTF(*)
Cash Advance Fee
Cash Advance APR
Balance Transfer Fee
Balance Transfer APR
17.99% – 24.99%
3x on purchases from Starbucks stores. (with membership)

0.25x star points on all other purchases.

4500 star point bonus when you spend $500 in 3 months from the account opening.

250 star points when you make the first purchase.

$49
3%
$10 or 5%
26.99%
$5 – 5%
17.99% – 24.99%
FTF: Foreign Transaction Fee
Starbucks Credit Card Editor Scores
| Type of Card | Editor Score | Overall Score | Total Cards |
| --- | --- | --- | --- |
| General | 212 | 200 | 100 |
| Restaurants | 189 | 220 | 3 |
Similar Credit Cards
You can find some user reviews of Starbucks Credit Card below.
Originally posted 2018-12-31 12:52:19.