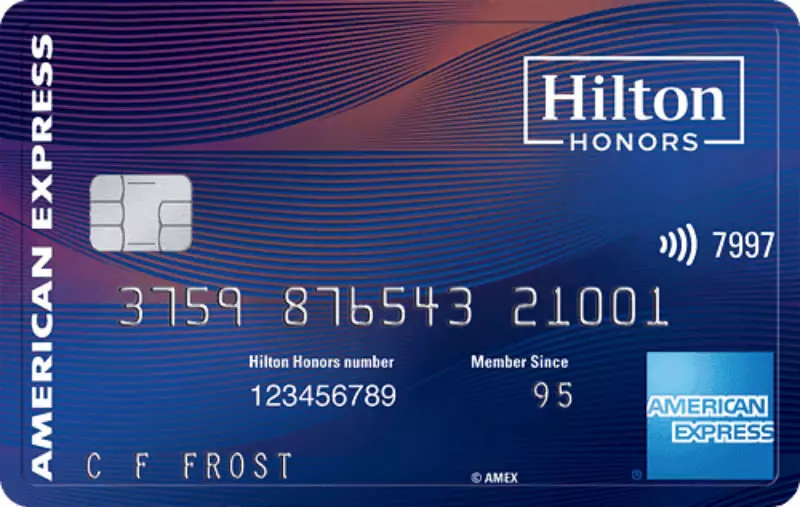 Hilton Honors American Express Aspire Card
$450
APR (Interest Rate)
6.5/10
Pros
150000 bonus points for $4000 purchases is very good and attractive for consumers.
14x rewards points for purchases from Hilton is very good.
7x rewards points on purchases from car rentals, restaurants and amextravel is very good.
3x rewards for rest of purchase categories is excellent.
There is no foreign transaction fee for the card.
Cons
$450 for annual fee is high.
APR rates are high.
Review
Hilton Honors American Express Aspire Card is the highest level of the Hilton card family. You will also get highest bonus points and rewards points with the card. If you would like to see our review for other Hilton cards, you can check here: Ascend Card, Honors Card. The card is providing 150000 bonus points and 14x – 7x – 3x rewars points for consumers. Especially if you are a regular customer of Hilton Hotels, we recommend you to think about getting these cards since it can be exremely beneficial for you. There are also several benefits of the card other than rewards and bonuses. We are going to provide all these features to you in our detailed review below. If you are also a user of this card, you can leave a review at the comment section below.
Earn 150000 Hilton Honors Points After Spend $4000 in First 3 Months
You can earn 150000 honors points if you spend $4000 in first 3 months after you get the card. You can redeem these points on your purchases on Hilton again and this will be extremely beneficial for you.
14x & 7x & 3x Rewards on Your Purchases
You will receive 14x rewards points on your Hilton Hotels purchases. You will receive 7x rewards points on your purchases from amextravel, car rental companies and United States restaurants. You will receive 3x rewards for your rest of purchases. With those bonus rates Hilton Hotels and Amex made a good balanced travel card which is focused on stays on Hilton.
A Free Night Stay on Hilton Hotels
Every members of this card will earn a weekend night stay on Hilton Hotels. If you spend $60000 with your card in a year, you will earn another weekend night stay with the card.
Earn $250 Statement Credit Yearly
You will also earn $250 statement credit yearly with the card. Your statement credits will be renewed every new year.
Don't Pay for Foreign Transactions
You won't also need to pay for foreign transactions with your card. What does it mean? When you visit abroad, some cards will ask you to pay exra fees since you buy things with foreign currency. This won't be happen with Hilton Honors American Express Aspire Card. You won't also need to pay extras when you purchase from internet.
CreditCardsKarma Thoughts on Hilton Honors American Express Aspire Card
This card can be quite beneficial for you despite of high annual fee. Statement credit amount, bonus points and rewards points rate making this card very valuable on the market.
Hilton Honors American Express Aspire Card Card Rates
Interest Rate (APR)
Rewards ($1)
Annual Fee
FTF(*)
Cash Advance Fee
Cash Advance APR
Balance Transfer Fee
Balance Transfer APR
17.99% – 26.99%
14x points when you purchase from Hilton Hotels and Hilton Portfolio.

7x points when you purchase from United States restaurants, amextravel, car rental companies.

3x points for the rest of purchases.

150000 bonus points when you spend $4000 first 3 months.

$450
None
$5 or 3%
27.49%
$5 – 3%
17.99% – 26.99%
FTF: Foreign Transaction Fee
Editor Scores for Hilton Honors American Express Aspire Card
| Type of Card | Editor Score | Overall Score | Total Cards |
| --- | --- | --- | --- |
| General | 230 | 200 | 100 |
| Sign-Up Bonus | 240 | 199 | 44 |
| Rewards | 268 | 189 | 64 |
| Hotels | 485 | 356 | 5 |
Similar Credit Cards
Originally posted 2019-04-25 04:09:49.