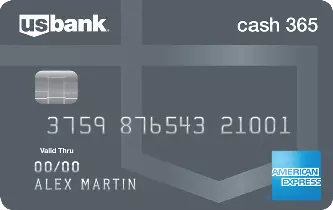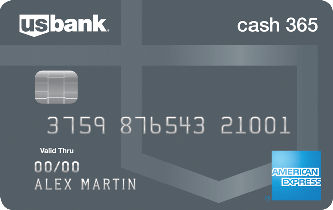 U.S. Bank Cash 365 American Express Card
0.00
APR (Interest Rate)
7.0/10
Pros
1.5% unlimited cashback is not a bad offer.
There is a good amount of bonus cashback after you spend a little with the card.
Balance transfer fees are good.
There is no annual fee for U.S. Bank Cash 365 American Express Card.
Cons
Cash advance APR is high.
You will need to pay extra for foreign transactions.
Review
U.S. Bank Cash 365 American Express Card is a credit card which is providing 1.5% cash back to consumers. The card is also providing reasonable sign-up bonus. You can read detailed information and review for the card below. You can also write your review for U.S. Bank Cash 365 American Express Card. If you have questions regarding our review on this page, you can ask them through commenting this page.
Unlimited 1.5% Cash Back
We have mentioned about another cash back card of U.S. Bank recently. You can also check our review and compare both cards. Select the most beneficial one. U.S. Bank Cash 365 American Express Card has 1.5% cash back rate for your all purchases which is very good for consumers. The best feature of the card that it is unlimited. You will able to receive your cash backs anytime for your purchases. You will able to get your cash backs throug statement credit and deposit it to your bank account.
Earn $150 Cash Back When You Spend $500
You will receive $150 cash back if you spend $500 in first three months. This is a reasonable sign up bonus for the card. You will not spend much but you will receive a good amount of cash back. This can be also a good opportunity for card owners.
Low Balance Transfer Fees and Rates
Balance transfer fees and rates are quite low with the card. You will pay $5 minimum or 3% maximum with the card. However 2% foreign transaction fee is not something we like. We generally recommend no foreign transaction fee cards. However the rate of the transaction is not much when we compare it with similar cards.
There is also no annual fee for this card. This will make the card more beneficial for consumers and their cash backs.
U.S. Bank Cash+ Visa Signature Card Rates and Fees Table
Interest Rate (APR)
Rewards ($1)
Annual Fee
FTF(*)
Cash Advance Fee
Cash Advance APR
Balance Transfer Fee
Balance Transfer APR
No Introductory.

16.24% to 25.74%

You are going to receive 1.5% cash back for each $1 purchases.

You are going to earn $150 for your $500 purchase with your card in first 3 months.

None
2%
$5 or 3%
26.24%
$4 or 10%
12 Months introductory: 0% APR

16.24% to 25.74%
FTF: Foreign Transaction Fee
U.S. Bank Cash+ Visa Signature Card Editor Scores
| Type of Card | Editor Score | Overall Score | Total Cards |
| --- | --- | --- | --- |
| General | 245 | 200 | 100 |
| Zero Interest | 220 | 180 | 43 |
| No Annual | 213 | 166 | 60 |
| Cash Back | 179 | 123 | 26 |
| Sign-Up Bonus | 206 | 199 | 44 |
Similar Credit Cards
Originally posted 2019-05-25 23:04:21.