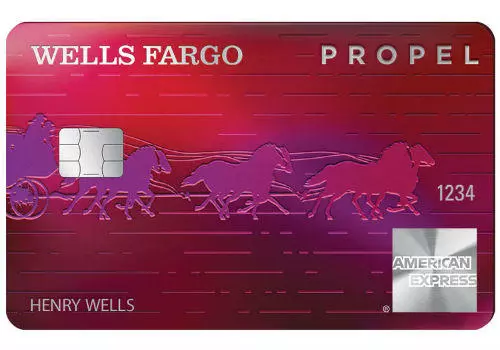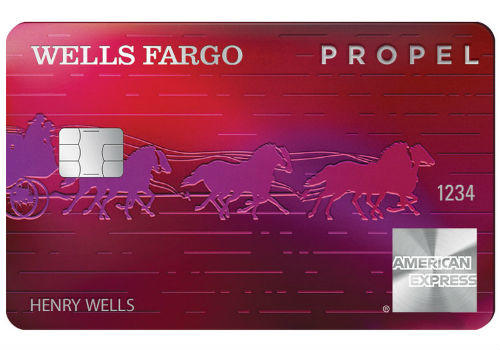 Wells Fargo Propel American Express® Credit Card
0.00
APR (Interest Rate)
5.5/10
Pros
1 rewards points for every purchases. 3 points for car rental, eating out, ordering in, gas, rideshares, transit, flights, hotels, home stays. 30,000 bonus rewards points in first 3 months.
No APR for the first year. After a year later 14.49% to 26.99% interest rate.
Reward points are not expiring...
It can be a good option for travel.
High security options with zero user liability.
Cell phone protection which will protect you against phone thefts.
No foreign transaction fee.
Cons
25.99% to 27.99% Cash Advance APR is a little bit high.
Wells Fargo Propel American Express® Card is not good for those who want to have credit card with bad credits.
Maximum APR 26.99% is a little bit high. (Depends on your creditworthiness though.)
5% fees for balance transfer and cash advance high.
Review
You can find a detailed review for each facts of Wells Fargo Propel American Express Card below. We are going to discuss interest rates, rewards, bonuses and fees of the card. If you would like to ask us anything regarding our review, please let us know with commenting this page.
Wells Fargo Propel American Express Card Fees & Rewards
Wells Fargo Propel American Express® Credit Card is one of the most famous credit card products of the Wells Fargo. It is also an amazing travel card which provides 3x rewards points for flights, hotels, transits, etc. The gas rewards points is also 3x which makes this card very good. There is no annual fee of the card and also No APR for purchases and balance transfers for 12 months.
There is a transaction fee at foreign purchases with the card. The rate of the payment is 3% and it is too much. You will need to make these payments for each purchases you make from abroad or foreign shops.
There is no annual fee of the card. That will help you to save a little bit.
Rates and Bonuses
0% introductory APR for 12 months is very good. Then the APR is going to be 14.49% – 26.99%. If you have a good credit score and if you get 26.99%, this is going to be too much for you. If you are planning to use this card for long-term, you should think twice about the rates. Cash Advance rates are already very high.
The card is providing 30000 sign-up rewards points and this is very good. The amount of sign-up bonus is making card beneficial for consumers at short-term usage. The card is also one of the best sign-up bonus cards in our list. There is not too much credit cards that can offer 30000 rewards points to consumers.
There is also intro balance transfer fee for first 4 months. You are going to pay 3% for transfers with the card. However then you will need to pay 5%. The regular transfer fee is high. We believe that if Wells Fargo determines the normal fees as 3%, the card is going to be more profitable for consumers.
Cash advance fee rate is 5% for the card and this is very high for this card. We generally recommend 3% rate at the least to consumers who are cash advance too often. 5% rate for each cash advance can be a problem for you with interest rates.
Wells Fargo Propel Credit Score
Recommended Credit Score: 700 minimum
You will need to higher credit score than 670 at the least for hope to get this card. If you have lower credit score, you will want to take a look at alternative credit cards. There are also good promotions of FNBO, Regions Bank and Capital One. You can take a look at those options. Chase is also another company which can be a good alternative.
Unfortunately there is not any long-term reward cards like this in Wells Fargo. You can earn massive rewards with Visa Signature credit card of the company. You can check the that card alternatively.
Thoughts
The card offering good rewards points for their users especially at necessary purchases. See how much bonus you can get with what kind of purchases in the pros table above. However cash advance APR and Purchase APR are very high on the card. Fees are also very expensive. Especially we were expecting card to have no fee for foreign transactions. This card can provide some advantages to you for first 12 months. However after 12 months later, things are going to be more expensive for you.
You will need to ensure that you spend much for these categories: car rental, eating out, ordering in, gas, rideshares, transit, flights, hotels, home stays. Wells Fargo Propel the card doesn't worth it.
Wells Fargo Propel Worth It?
I believe that this is not a bard card at all. However with current interest rates and feels, if you are not earning enough, this card can be a serious problem for you to pay debts. We recommend you to calculate your expenditure and rewards. You can also ask our support to make calculation for you. You can leave a comment below for this.
There is rates of the card and also editor scores of Credit Cards Center below. You can also read Wells Fargo Propel American Express Card reviews which has made by users below.
Wells Fargo Propel American Express Card Rates
Interest Rate (APR)
Rewards ($1)
Annual Fee
FTF(*)
Cash Advance Fee
Cash Advance APR
Balance Transfer Fee
Balance Transfer APR
0% for 12 months

14.49% – 26.99%

1 – 3 points

30000 Rewards points are available as sign-up bonus.

None
3%
$10 or 5%
25.99% – 27.99%
$5 – 3% (first 120 days)

Regular: 5%

0% APR for first 12 months

Regular: 14.49% – 26.99%
Wells Fargo Propel American Express Card Editor Scores
| Type of Card | CCC Editor Score | Overall Score | Total Cards |
| --- | --- | --- | --- |
| General | 220 | 200 | 100 |
| Zero Interest | 225 | 180 | 43 |
| Sign-Up Bonus | 240 | 199 | 44 |
| Rewards | 275 | 189 | 64 |
| No Annual | 200 | 166 | 60 |
| Balance Transfer | 190 | 226 | 50 |
Similar Credit Cards
You can also get more information on the website from official website of https://www.wellsfargo.com/ and also asking us with our Q&A service. One of our expert staff will answer your questions about rates, fees, how to apply Wells Fargo Propel, how is the process…
You can leave a review for this card below or you can also tell your good or bad experiences. Please leave a fair review because user reviews are determining card rankings and scores on our website.

Originally posted 2018-12-11 08:26:38.