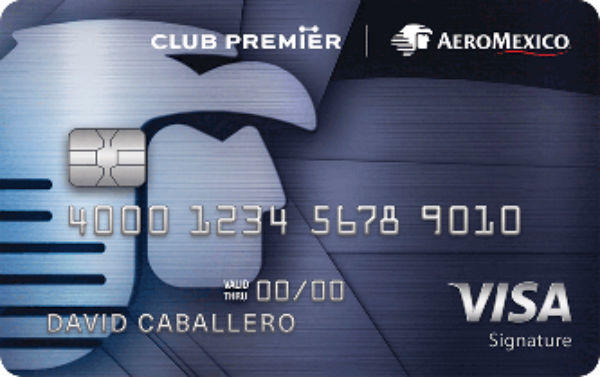 APR (Interest Rate)
7.0/10
Pros
2x miles for purchases from company and grocery stores.
1x miles for the rest of purchases.
Low annual fee.
10000 bonus miles on your first purchases.
2000 bonus miles every year.
Cons
Miles rewards could be better.
Review
Aeromexico Visa Card is another credit card of flight company Aeromexico. We have also introduced Visa Signature card of the same company recently in our pages. this card is offering good opportunities to consumers. If you are already a regular costumer of Aeromexico, this card can be quite beneficial for you. You can read features of the card below. We are going to review features of the card for you. If you are already the costumer of the card, you can write a review for Aeromexico Visa Card. We will be glad to hear your opinions about the card. This will be also helpful for other consumers too.
Get 10000 Miles After You Made the First Purchase, Get 2000 Miles Every Year
As long as you have this card, you will keep getting bonus miles. After you receive the card, you are going to get 10000 miles bonus with your first purchase. This is good that there is no purchase limit on that. All you need to do is purchasing something with your card to receive 10000 miles point.
You will also receive annual miles points with your card. Whenever you pay the annual fee, you are going to get 2000 miles every year.
Low Annual Fee Opportunity
You are not going to pay much for annual fee with the card. The annual fee is only $45. This is a good opportunity for such a card. Generally flight companies are asking more for annual fees.
2x & 1x Miles Points for Your Purchases
You are going to get 2x miles points and 1x miles points for your purchases with Aeromexico Visa Card. You can receive 2x miles via purchasing tickets from Aeromexico. Additionally you can also receive 2x miles from grocery stores too. 1x miles for all other purchase categories.
Aeromexico Visa Signature Card Rates & Fees
Interest Rate (APR)
Rewards ($1)
Annual Fee
FTF(*)
Cash Advance Fee
Cash Advance APR
Balance Transfer Fee
Balance Transfer APR
15.24% to 25.24%
2x miles when you purchase tickets from Aeromexico. 2x miles from Grocery purchases too.

1x miles for the rest of purchases.

2000 miles annually when you pay the annual fee.

10000 miles bonus when you make the first purchase.

$45
2%
$10 or 4%
26.24%
$5 – 3%
15.24% to 25.24%
FTF: Foreign Transaction Fee
Editor Scores for Aeromexico Visa Signature Card
| Type of Card | Editor Score | Overall Score | Total Cards |
| --- | --- | --- | --- |
| General | 190 | 200 | 100 |
| Sign-Up Bonus | 193 | 199 | 44 |
| Rewards | 180 | 189 | 64 |
| Flight | 195 | 189 | 9 |
Similar Credit Cards
Originally posted 2019-05-26 20:27:15.