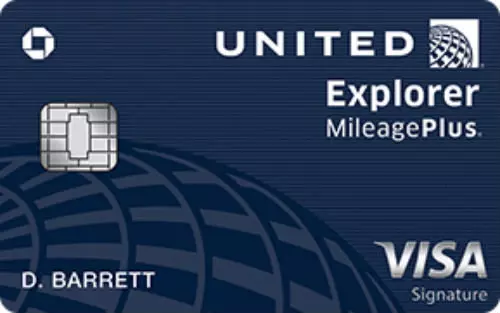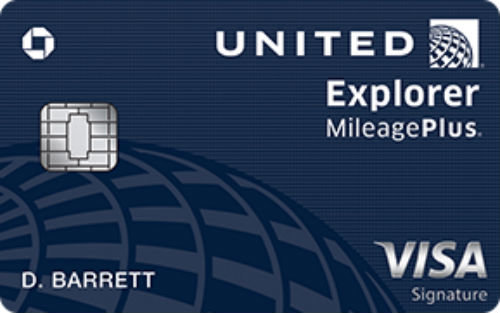 Chase United(SM) Explorer Card
$95
APR (Interest Rate)
5.0/10
Pros
UnitedSM Explorer Card is not a card which is focused only on purchases on a company. You can also earn 2x rewards from many other travel goods with this card.
It can be a good travel and flight card for you if you have a good credit score.
Foreign transaction fee doesn't exist for this card. As we have always told, "this is very important for those who are travelling abroad."
There are very good promotions and features of the card.
Annual fee is quite good. You will not pay annual fee for the first year. This will make your bonuses more beneficial for consumers.
65000 miles bonus available in the card.
25% cash back available on some inflight purchases. See detailed information via clicking apply button below.
Cons
Fees and interest rates of the card is high. If you have excellent credit score, minimum APR + bonuses + rewards can be beneficial for you though.
Review
United Explorer Card is a mile credit card that you can earn rewards through traveling through United Airlines. The card provides many benefits for consumers with a reasonable annual fee and good sign-up bonuses. Besides the card is not only providing rewards on your purchases from the company. You will able to earn 2x miles with purchases other than United Airlines.
UnitedSM Explorer Card Worth It?
Interest rates are a little bit high. However low annual fees and high bonuses are still considerable. Especially 2x miles for restaurants and hotels is making this card very attractive. Additionally, you are also going to earn 2x miles on tickets, economy plus, foods, beverages, and wi-fi purchases in United Airlines. This is one of the good miles credit cards of Chase certainly. You will also go on to earn 1x miles with all other purchases. You are going to get back 25 percent of your inflight purchases. Such as food, beverages, and Wi-Fi.
There are not also foreign transaction fees with the card which is very important for a travel/flight card. Additionally, you will not pay the annual fee for the first year. This is making miles bonuses more beneficial for consumers.
Rates
Interest Rate (APR)
Rewards ($1)
Annual Fee
FTF(*)
Cash Advance Fee
Cash Advance APR
Balance Transfer Fee
Balance Transfer APR
17.99% – 24.99%
2x Miles on Restaurants and Hotels.

2x Miles on United Airlines purchases (tickets, beverages, wi-fi, food, economy plus)

40000 Miles Bonus After $2000 purchase.

25000 Miles Bonus After $10000 purchase in 6 months.

25% back inflight purchases.

$95

($0 first year)

None
$10 or 5%
26.99%
$5 – 5%
17.99% – 24.99%
FTF: Foreign Transaction Fee
Editor Scores
| Type of Card | Editor Score | Overall Score | Total Cards |
| --- | --- | --- | --- |
| General | 202 | 200 | 100 |
| Miles | 217 | 215 | 4 |
| Flight | 202 | 189 | 9 |
| Sign-Up Bonus | 220 | 199 | 44 |
| No Foreign Transaction | 210 | 178 | 40 |
You can read some user's reviews of the UnitedSM Explorer Card below.
Similar Cards
Originally posted 2018-12-29 02:56:54.