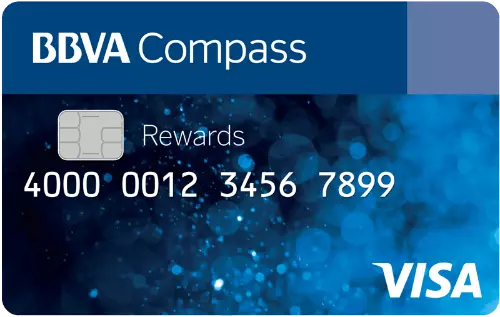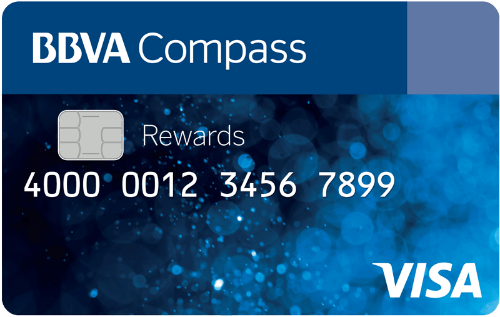 APR (Interest Rate)
5.0/10
Pros
1.5 rewards points minimum is good. You can also improve it to 2.
No limit at purchases to gain rewards points.
You will not pay annual fee for this card.
It is good for balance transfer.
Balance transfer fee is also reasonable.
Reasonable cash advance fee.
No liability protection is available.
Cons
BBVA Compass Rewards Card interest rates are a high. It can be still very low depends on your creditworthiness but we always consider the maximum amount first.
Limited services and promotions except rewards.
There is no sign-up bonus.
BBVA Rewards Credit Card Review
You can find a detailed review of the card below. We investigated each feature of BBVA Rewards Card and we provide our own thoughts for you. If you have any experiences with the card, please leave a review.
Rewards and Bonus
BBVA Rewards Card is providing good options to get rewards points. The regular rate is 1.5 reward points at every purchase. However, if you ever deposit $1000 to your bank account, you will increase your rewards points to 2 for every purchase. There is no limit on this and you can gain 2% rewards points with depositing $1000 to your BBVA deposit account every month. I believe if you are going to work with BBVA for your financials, this opportunity can be very good for you. However, we recommend you to be careful about the interest rate of the card. We are going to mention this at APR and Fees section below. Earn hassle-free rewards across ALL purchase categories, every time and everywhere.
Unfortunately, there is not any good bonus for the card at this time. If BBVA can do a good sign-up promotion for this card, it will be more attractive for consumers.
BBVA Rewards Card Fees and APR
If your creditworthiness is not very good, the APR amount can be high with this card. If it is good, it is going to be very low. More than 30 percent annual interest rate can be quite problematic for consumers despite good rewards rates. APR is 13.24% to 31.24%. There is not 0% APR promotion of credit card for purchases but it is available for balance transfers for 13 months. However, if you would like to have %0 interest rate for balance transfers. This is available in BBVA Rewards Cards.
There is no annual fee of the card and we always like no annual fee cards. Because no annual fee cards are always making rewards more beneficial for consumers.
If you are purchasing abroad very often, you will need to make 3% extra payments with the card for each of your foreign transactions. The maximum cash advance fee and the balance transfer fee is average. Their rate is 4%. However minimum payment is $10 and this is above the average.
Thoughts
BBVA Rewards Card is not a bad card if you have a good credit score. It depends on your APR much. If you get this card with APR more than 20 percent, it won't worth it despite 2x rewards. We recommend you to talk to a banker of BBVA before applying to the card and learn possibilities about APR rates first. If there was an introductory period on purchases, this card could be a good opportunity for consumers.
BBVA Rewards Card Rates & Fees
Interest Rate (APR)
Rewards ($1)
Annual Fee
FTF(*)
Cash Advance Fee
Cash Advance APR
Balance Transfer Fee
Balance Transfer APR
13.24 – 31.24%
Regular: 1.5x

If you deposit $1000 to your account regular Rewards is: 2x

None
3%
$10 or 4%
24.24% – 31.24%
$10 – 4%
0% for 13 first months

Regular: 13.24 – 31.24%
FTF: Foreign Transaction Fee
BBVA Rewards Card Editor Scores
| Type of Card | Editor Score | Overall Score | Total Cards |
| --- | --- | --- | --- |
| General | 191 | 200 | 100 |
| No Annual | 168 | 166 | 60 |
| Rewards | 215 | 189 | 64 |
| Balance Transfer | 143 | 226 | 50 |
Similar Credit Cards
Originally posted 2018-12-14 20:28:46.