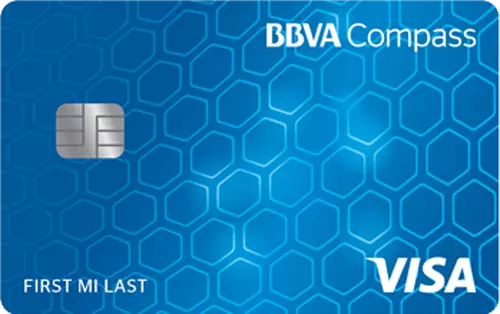 BBVA ClearPoints Credit Card
0.00
APR (Interest Rate)
6.0/10
Pros
Awesome rewards points opportunities.
You can select purchase category for x3 and x2 rewards points.
Good promotions and services are available.
Min APR is low.
13 months 0% APR.
You don't need to pay annual fee.
Good for balance transfer.
Rewards are unlimited.
Cons
Max APR is high. You should think twice if you don't have excellent credit history.
BBVA ClearPoints Credit Card Review
You can find detailed information on BBVA ClearPoints credit card below with our review. You can also leave a review at the bottom of the page and tell your thoughts and experiences about the card.
BBVA ClearPoints Rewards
BBVA Clearpoints is a no-interest credit card which will also give you various rewards. You can pick the purchase category for your x2 and x3 rewards. Besides, you will able to earn x1 rewards for the rest of your purchases. You can learn more about those rewards from the card page of BBVA. When you open a BBVA ClearPoints Credit Card, you automatically start earning rewards with your first purchase!
There are ten categories that you can pick for purchases. These are general categories that you can pick and this option can be quite profitable for you. You need to select a category for each quarter of the year. If you don't select reward categories, you are going to earn 1x for your purchases. So don't miss the opportunity.
APR and Bonus
There is no bonus for BBVA Clear Points.
The minimum APR for the card is 13.24%. This is a good rate for those who have an excellent credit score. However, the maximum APR of the card is too high. It is 31.24%. No APR for 13 months is a good opportunity for people. Cash Advance fees are also high with 24.24% – 31.24% rates at the moment.
It seems you need really a good credit history for a better APR. If your Purchase and Transfer APR is higher than 20, this card can be a serious problem for you about 13 months later.
Fees
There is no annual fee of the card and this is making this card valuable. We believe that rewards card with no annual fees is one of the best opportunities for consumers.
If you are purchasing from foreign shops/online stores, there is a downside to this card for you. You will need to make 3% more payment on foreign transactions. If you don't have purchases from abroad very often, you can ignore this fee.
Cash Advance fee and balance transfer fee for the card is 4% and this is average. However, the minimum payment fee is $10 and this is too much for the card.
Thoughts
This is a short-term good card if you get a high-interest card. However, if you manage to get low APR which is lower than 18%, and if you pick correct categories for rewards this card can be very profitable for you in the long-term.
How do I redeem my BBVA Compass points?
Redeem via the rewards website, which can be accessed via Online Banking or the Mobile Banking App. Call the rewards center at 1-844-285-8383. Redeem rewards in real-time, up to the amount of the transaction, when you set-up Mobile Banking transaction alerts.
BBVA ClearPoints Rates & Fees
Interest Rate (APR)
Rewards ($1)
Annual Fee
FTF(*)
Late Payment Fee
Cash Advance Fee
Cash Advance APR
Balance Transfer Fee
Balance Transfer APR
0% for 13 first months

Regular 13.24 – 31.24%

Regular: 1 – 2 – 3

You pick a purchase category for 2x and 3x rewards. Rest of purchases are 1x.

None
3%
$37
$10 or 4%
24.24% – 31.24%
$10 – 4%
0% for 13 first months

Regular: 13.24 – 31.24%
FTF: Foreign Transaction Fee
BBVA ClearPoints Editor Scores
| Type of Card | Editor Score | Overall Score | Total Cards |
| --- | --- | --- | --- |
| General | 222 | 200 | 100 |
| No Annual | 183 | 166 | 60 |
| Rewards | 236 | 189 | 64 |
| Balance Transfer | 185 | 226 | 50 |
Similar Credit Cards
Originally posted 2018-12-14 22:47:52.