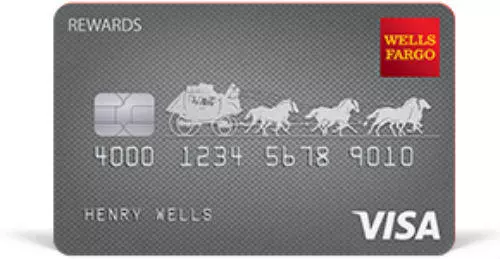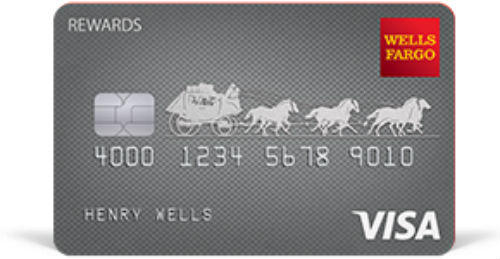 Wells Fargo Rewards Credit Card
0.00
APR (Interest Rate)
3.5/10
Pros
There is no annual fee for Wells Fargo Rewards Card which makes this card attractive.
There is no APR for the first 15 months on purchases and balance transfers.
5x reward points for gas, grocery, and drugstore purchases in 6 months. (Up to 12,500) 1 rewards point for each $1 you spent.
$37 late payment fee.
Good travelling opportunities such as Auto rental collision damage waiver, Auto rental collision damage waiver, Travel accident insurance.
Cell phone protection is available.
Your rewards points will remain in your account for 5 years.
Zero liability protection is available for this card.
Cons
High regular interest rates which starts from 18.49% up to 27.99%.
5% cash advances fee is a little bit high.
Foreign transaction fee is 3%.
Balance transfer APR is a little bit high.
Review
You can find a detailed review of Wells Fargo Rewards Card below. We investigated all facts of the card and shared our opinions about all features of the card.
Wells Fargo Rewards Card APR and Bonuses
15 months no APR is really good for the card. This introductory APR is valid for transfers and purchases. Cash Advance rates and regular purchase & balance transfer rates of the card is very high though. You cans see these rates at the table below.
There is not any direct sign up bonus of the card but there is a high signup bonus rewards for all purchases in first 6 months. This is limited with $12500 purchases. So you can earn 5x rewards for gas, drugstore and grocery purchases. It is making this card beneficial for some time. However you will need to math your 6 months purchases in these categories first. We recommend you to calculate all your monthly purchases and see if this credit card beneficial for you.
Fees and Rewards
As we have mentioned above you are going to earn 5x rewards in the first 6 months. After 6 months later, your rewards rate is going to decrease 1x and this is quite low. Foreign transaction fee can be problem for you if you are purchasing from abroad or foreign online shops. You will need to pay 3% fee for your each foreign transactions. There is not any annual fee of the card. This is one of upsides.
Balance transfer fee and cash advance fee are also high. However there is an introductory balance transfer fee for 120 days. It is minimum $5 and maximum 3%.
Thoughts
This credit card is designed to be a rewards credit card by Wells Fargo. However the huge disadvantagement of this card is high interest rates. We recommend this card for only those who doesn't care for APR. We recommend it for those who wants to get rewards points from their purchases in short term usage.
Wells Fargo Visa Signature Credit Card has far better features than rewards card. It is already provide the same rewards points for their users but it has much lower interest rates than Wells Fargo Rewards Credit Card.  There are also good travelling promotions and opportunities for Signature Card. So we recommend you to check it first, before applying to Rewards Card.
You can read user reviews below and you can also share your experiences about this product. You see overall user rating score for this card above.
Wells Fargo Rewards Card Rates and Fees
Interest Rate (APR)
Rewards ($1)
Annual Fee
FTF(*)
Cash Advance Fee
Cash Advance APR
Balance Transfer Fee
Balance Transfer APR
0% for 15 months

Regular: 18.49%-27.99%

1 point

5 x rewards points for up to $12,500 on purchases on grocery, gas and drugstore. (6 Months)

None
3%
$10 or 5%
25.99% – 27.99%
$5 – 3% (first 120 days)

Regular: 5%

0% APR for first 15 months

Regular: 18.49%-27.99%
FTF: Foreign Transaction Fee
Rewards Card has no annual fee. You won't need to pay APR for 15 months. After 15 months later, regular interest rate is going to be 18.49% – 26.99%. It depends on your creditworthiness.
Editor Scores for Wells Fargo Rewards Card
| Type of Card | Editor Score | Overall Score | Total Cards |
| --- | --- | --- | --- |
| General | 204 | 200 | 100 |
| Zero Interest | 238.25 | 180 | 43 |
| Sign-Up Bonus | 246 | 199 | 44 |
| No Annual | 173 | 166 | 60 |
| Rewards | 215.5 | 189 | 64 |
Similar Credit Cards
You can read Wells Fargo Rewards card reviews below. If you also have any questions, please feel free to ask us.
Originally posted 2018-12-11 19:19:08.