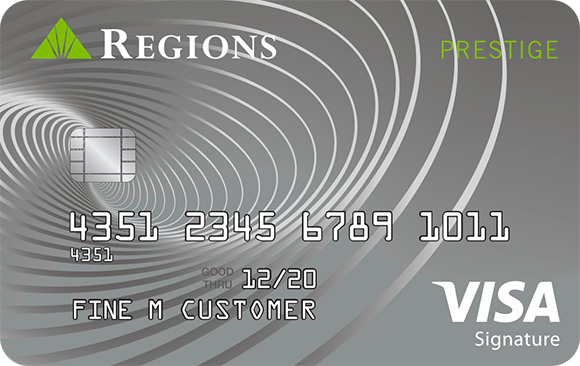 Regions Prestige Credit Card
0.00
APR (Interest Rate)
6.0/10
Pros
10.000 bonus points available in first 3 months.
No annual fee.
No APR (interest rate) for purchases and balance transfer first 12 months.
Unique services such as Travel Accident Insurance, Lost Luggage Reimbursement, Concierge Services, Visa Signature Perks.
Customizable card.
No foreign transaction fee.
Minimum APR rates are good.
Cons
Maximum APR rates are high.
Not best option for bad credits.
1 point rewards point for $1. It is below average.
26.99% Cash Advance APR.
Review
Regions Prestige Visa is one of premium cards of Regions Bank. There are some good travel opportunities which comes with this card. No annual fee is a good advantage for those who don't want to pay for a credit card yearly. APR is a little bit high but that depends on your creditworthiness. You can find a detailed review below for each facts of the card.
APR & Fees
There is no foreign transaction fee of the card. So you are not going to pay extra for products which you have bought from other countries and other currencies.  Balance transfer fee and cash advance fee are at reasonable rates. 12 months introductory period for APR is also another good feature of the card. 14.99%-23.99% interest rates are not bad. Cash advance and balance transfer fees are also reasonable. No annual fee is one of the upsides of the card.
Regions Prestige Visa Rewards & Bonuses
You are going to earn 1 point for every $1 that you spend. We should admit that this is very low. 10.000 sign-up bonus points is not very bad but it is not still very promising. If you have enough credit score to get Regions Premium Credit Card, we recommend you to take a look at that card first.
Our Thoughts on Regions Prestige Visa
We don't think that Regions Prestige credit card is very bad but we still think that it is below the average. The card should provide more opportunities to consumers. Despite of no annual fee and no foreign transaction fee, the card has nothing to attract consumers.
You can see the rates of the card below. Also editor scores and user reviews.
Regions Prestige Visa Rates
Interest Rate (APR)
Rewards ($1)
Annual Fee
FTF(*)
Late Payment Fee
Cash Advance Fee
Cash Advance APR
Balance Transfer Fee
Balance Transfer APR
0% for 12 months

Regular: 14.99%-23.99%

1 point

10.000 bonus points are available.

None
None
$38
$10 – 4%
26.99%
$10 – 4%
0% APR for first 12 months

Regular: 14.99% – 23.99%
FTF: Foreign Transaction Fee
For more information:
Regions Credit Card Customer Service: 1-800-253-2265
Editor Scores
| Type of Card | Editor Score | Overall Score | Total Cards |
| --- | --- | --- | --- |
| General | 199 | 200 | 100 |
| No Foreign Transaction | 165.5 | 178 | 40 |
| Zero Interest | 185.5 | 180 | 43 |
| Sign-Up Bonus | 185 | 199 | 44 |
| No Annual | 176.5 | 166 | 60 |
| Rewards | 173 | 189 | 64 |
Similar Credit Cards
You can see regions prestige visa reviews below. If you are also a user of this card, you can review it.
Also see card compares of Regions Bank: Best Regions Bank Credit Cards
Originally posted 2018-12-10 10:54:26.