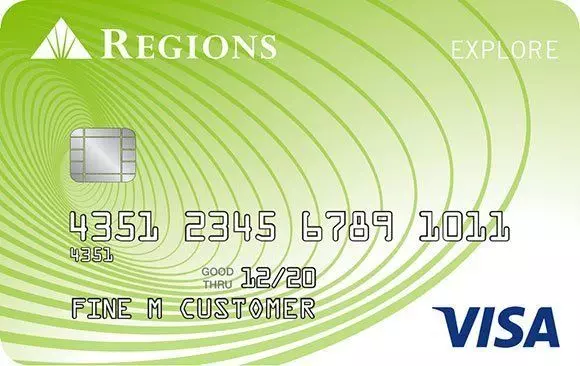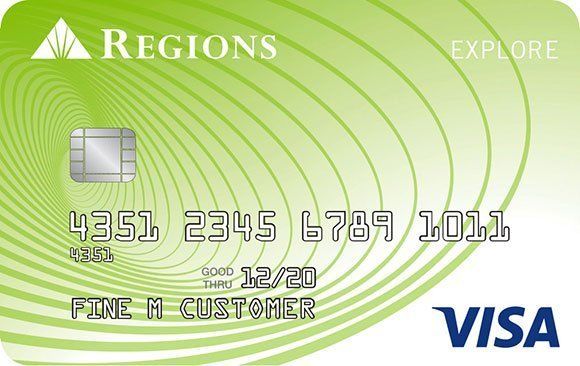 Regions Explore Credit Card
$29
APR (Interest Rate)
5.0/10
Pros
Can improve your credit history.
$29 annual fee.
No foreign transaction fee.
$38 late payment fee.
Customizable card.
Purchase security, auto rental collision damage waiver, roadside dispatch, travel & emergency assistance services are available.
Good for bad credits.
Cons
Need to have a Explore Card Savings accounts.
24.74% APR.
No rewards points
Only a few travel features.
26.99% Cash Advance APR.
Review
Regions Explore Visa can be a good opportunity for bad credits. The card doesn't provide many services for consumers. However low annual fee, reasonable late payment fee, customization options and some common benefits are considerable. You can also check other credit card products of Regions Bank in our website. This card is also secured credit card of Regions Bank.
Interest Rates & Fees
Downsides of Regions Explore Visa are high APR for balance transfer, purchase and cash advance. Purchase and Balance Transfer APR is 24.74% at the moment. Cash Advance APR is 26.99%. Despite of high interest rates, the card is providing good fee options for cash advance and balance transfer. However the minimum fee ($10) is still high. If it was $5 for balance transfer at the least, it wouldn't be above of minimum balance transfer fee.
There is no foreign transaction fee for the card and this can be a good advantage for you if you purchase from abroad or from a foreign shop often.  The annual fee of the card is low. It is $29 at the moment.
Bonuses & Rewards
There is no bonuses and rewards on this card at the moment. If the situation changes, we are going to update this page.
Regions Explore Credit Card Benefits
There are multiple benefits of the card with the advantages of Visa. These are some important benefits that you will get with this card…
Rental Damage Waiver
Roadside Dispatch
Warranty Manager Service
Security  on Purchase
Travel & Emergency Services
We also recommend you to check card issuer website to learn more about this.
Our Thoughts on Regions Explore Credit Card
There are much better alternatives which provides reasonable APR for consumers in our website in the same category. However you should calculate cash advances, balance transfers and purchases carefully because Regions Explore Visa provides good fees for those who wants to rebuild credit or build credit. If you are looking for a student card in Regions, you can also use this opportunity. However we can't tell you it is the best to apply for a student.
Also see card compares of Regions Bank Cards: Best Regions Bank Credit Cards
You can see some rates of the card below. You can read some user reviews and take a look at our editor scores for Regions Explore Visa.
Regions Explore Visa Rates & Fees
| Interest Rate (APR) | Rewards ($1) | Annual Fee | FTF(*) | Late Payment Fee | Cash Advance Fee | Cash Advance APR | Balance Transfer Fee | Balance Transfer APR |
| --- | --- | --- | --- | --- | --- | --- | --- | --- |
| Regular: 24.74% | None | $29 | None | $38 | $10 or 4% | 26.99% | $10 – 4% | Regular: 24.74% |
FTF: Foreign Transaction Fee
For more information:
Regions Credit Card Customer Service: 1-800-253-2265
Regions Explore Visa Editor Scores
| Type of Card | CCC Editor Score | Overall Score | Total Cards |
| --- | --- | --- | --- |
| General | 124 | 200 | 100 |
| Credit Builder | 130 | 127 | 10 |
| For Bad Credits | 140 | 165 | 10 |
| No Foreign Transaction | 125 | 178 | 40 |
| No Credit History | 142 | 168 | 10 |
Similar Credit Cards
Last Update Date: 11.01.2018
Originally posted 2018-12-10 00:55:21.